Scania spd3 V2.50.1 12.2021 is a powerful Truck/Bus Diagnosis-Programmer Software+Keygen designed for Scania vehicles and industrial/marine engines. It enables efficient diagnostics, programming, and maintenance tasks.
VERSION of software: 2.50.1
Release date: 2021/12
Key Features:
Wide Compatibility: Works seamlessly with a range of Scania vehicles, including L, P, G, R, and S series (2016 and newer), P, G, R, and T series (2003 and newer), and F, K, and N series.
Engine Support: Covers the P96 and E2011 series engines, providing comprehensive diagnostic and programming capabilities.
Troubleshooting: Offers advanced diagnostic functionalities for identifying and resolving issues with Scania vehicles and engines.
Customization: Allows customization of parameters to tailor the vehicle's performance and functionality according to specific requirements.
Calibrations: Perform precise calibrations to optimize engine performance, fuel efficiency, and emissions control.
Electrical System Control: Enables changes affecting the electrical system, ensuring seamless integration and operation within the CAN network.
Software Updates: Keep Scania vehicles up to date by applying software updates to control units, ensuring optimal performance and compatibility.
Keygen Activation: Includes a keygen for activating and utilizing the full features of Scania spd3 V2.50.1.
Reliable Performance: Designed to provide reliable and accurate diagnostics and programming, enhancing the overall maintenance and performance of Scania vehicles and engines.
1) This application is used for troubleshooting, adjusting parameters, calibrations, conversions affecting the electrical system, and updating control unit software.
2) Scania Diagnosis & Programmer 3 (SDP3) connects with Scania commercial vehicles and marine and industrial engines. The application was created to assist the electrical system's CAN communications.
3) Scania diagnostic software supports VCI2 / VCI3 interface
Features:
Highest Level Access: Provides comprehensive access and permissions for advanced diagnostic and programming functions.
Internal Scania: Supports diagnostics and programming of internal systems and components within Scania vehicles or engines.
Industry & Marine: Compatible with Scania engines used in industrial and marine applications.
Authorized Scania Workshops: Designed for use by authorized service centers and repair facilities that meet Scania's requirements.
Bodybuilder: Includes features to facilitate integration with custom bodies designed for Scania vehicles.
Language install options: English, German, Spanish, French, Japanese, Korean, Dutch, Persian, Polish, Portuguese, Swedish, Norwegian, Suomi, Turkish, Italian, Czech, Russian, and Chinese.
Scania SDP3 Features:
Check and Adjustments: Allows to perform checks and make necessary adjustments to various components and systems within Scania vehicles or engines. It helps ensure proper functioning and optimal performance.
Conversion: Enables conversion of certain vehicle or engine configurations, such as modifying a truck's setup for a specific application or adapting an engine for different operating conditions.
Maintenance: Provides tools and functionalities for performing routine maintenance tasks, such as scheduled inspections, servicing, and component replacements, to keep Scania vehicles or engines in good working condition.
Campaign: Refers to software updates or modifications released by Scania to address specific issues or enhance the performance of certain vehicle models or engine series. The software allows for the implementation of these campaigns to improve overall reliability and functionality.
Bodywork: Supports the integration and communication between the Scania vehicle's internal systems and external bodywork or specialized structures designed and built by bodybuilders. It ensures seamless functionality and compatibility between the vehicle's control units and the custom bodywork.
Fault Codes: Allows the retrieval and interpretation of fault codes generated by the vehicle's electronic systems. It assists in diagnosing and troubleshooting issues by providing information about specific malfunctions or abnormalities.
Fault Reporting: Provides a mechanism to report and document faults or issues encountered during vehicle operation. It helps authorized workshops or service centers gather relevant information for efficient diagnosis and resolution of problems.
Programming of Control Units: Enables programming and configuration of the control units within Scania vehicles or engines. It allows for adjustments, updates, and customization of various parameters and settings to meet specific requirements or optimize performance.
Adapter Required: Vci 3 SDP3 adapter
Note: the new adapters do not work with trucks before year 2004 models
System Requirements:
Operating system: Os: Win 7  32 /64x , Win 10 pro
Ram: 6 gb
Hdd: 35 free gb space
For more details you can whatsapp us.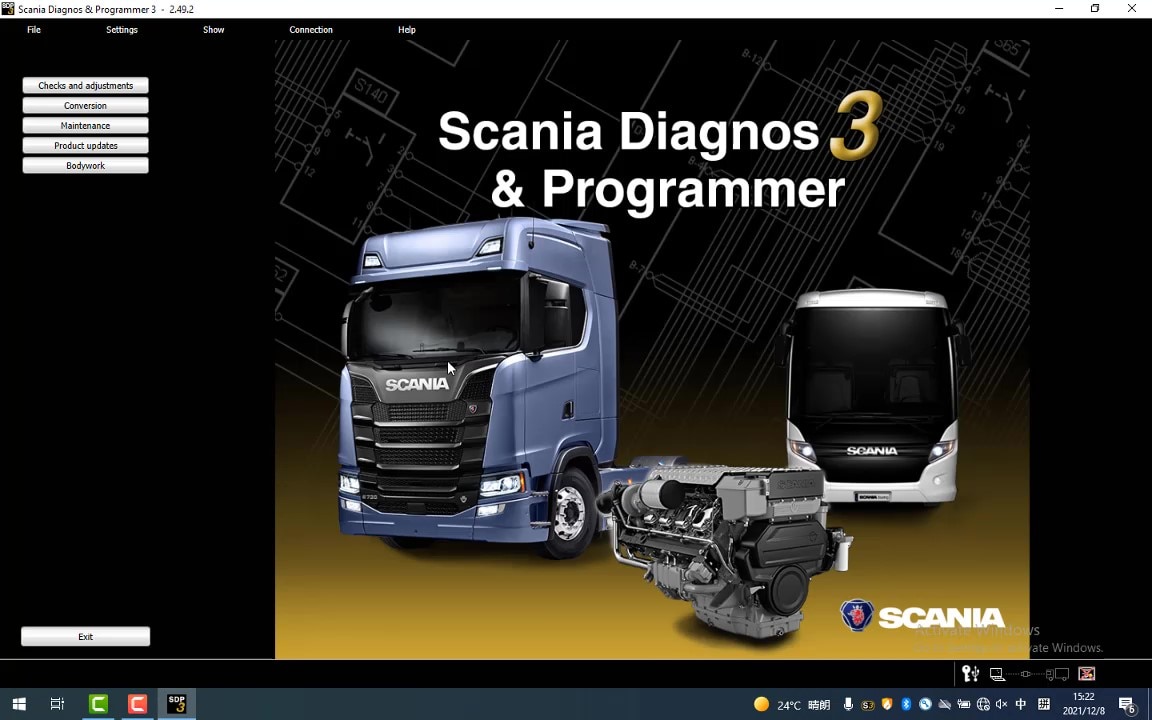 Shipping
The link will be instantly available once payment is confirmed. It will be seen in the downloads section of your obd2technology account.
Payments
WE ACCEPT THE DIFFERENT PAYMENT METHODS ADVERTISED ON THE SITE, SUCH AS PAYPAL, VISA AND MASTERCARD CARDS AND BITCOIN
How To Place An Order, download and common questions: