2022  Sale for Premium Tech Tool PTT V2.8.130+ VCADS Development + Devtool + Keygen + APCI 2021.09 for Volvo and other trucks like renault, western star, Mack Diagnostic
This version is offered on vmware and on native install
PRODUCT DESCRIPTION:
Premium Tech Tool (PTT) is a tool that supports the repair and diagnostic process. It was developed to make repair shop tasks easier and more efficient. PTT can be used in the repair shop, in the field, on the road or during test drives. PTT is a diagnostic application that covers the entire repair process through the use of plugins. With PTT you can diagnose, test, calibrate and program a product. A product can be a vehicle, engine, or a machine. PTT also provides functions for updating the tool, communication with the product, and other external applications. The set of plugins, user authorizations and languages ​​available is adjustable to provide each user with what they need.
WORKS WITH FOLLOWING DEVICES:
UD Diagnostic Kit (RP1210)
Renault Diagnostic Kit (
Volvo Diagnostic Kit (
MACK Diagnostic Kit (
The new Developer Tool plus will work on all: V2, V3, V4
Volvo PTT software works for the following vehicles:
• Volvo Trucks (old electric system, vehicle electric system '98);
• Volvo Trucks (VERSION2, VERSION3 – PARAMETER PROGRAMMING);
• Volvo Trucks (VERSION 4 – FH4 / FM4 – PARAMETER PROGRAMMING);
• Volvo buses (conventional, multiplexed, multiplexed v2, multiplexed v3);
• Volvo Penta (VERSION2, VERSION3);
• Volvo OEM Component Customer (VERSION2, VERSION3);
• Mack Trucks (V-MAC I / II / III, ITC, IV, IV + – PARAMETER PROGRAMMING);
• Renault Trucks (VERSION2, VERSION3, VERSION4 – PARAMETER PROGRAMMING);
• UD Trucks (VERSION2, VERSION3). PARAMETER PROGRAMMING);
Developer Tool Pro for Volvo allows you special programming operations on Volvo, Mack and Renault Trucks.
More than 20000 access parameters with this tool.
You can access Level 2, Level 3, and Level 4 parameters without connection to central servers online.
Features of the Volvo Developer Tool
The Developer Tool for Volvo allows you to access and program parameters at Level 2, Level 3 and Level 4 without connection to central servers online.
Developer Tool for Volvo works with Tech Tool (VCADs Pro), supports Normal and Development modes, available in 28 languages.
Devtool is compatible with all makes and models that are compatible with Tech Tool (VCADs Pro).
Devtool allows you to program over 20,000 parameters on all compatible trucks, buses and other heavy duty vehicles.
Devtool can program the speed limit, change the chassis ID, deactivate the immobilizer, and do other serious work.
Devtool can change the minimum / maximum values ​​of the parameter limits, for example, it can increase the speed limit.
Devtool for Mack to edit the V-MAC I / II / III / ITC parameters included in the dev2tool kit.
Some interesting options:
Chassis ID change.
Immobilizer ON / OFF.
Injector programming.
Speed ​​limit programming.
EUR6 compatible trucks.
Premium Tech Tool (PTT) supports these models:
ACCESS Renault Version2
Renault Version2 CAESAR
Renault Version2 COMPRT
Renault Version2 EXTRT
Renault Version2 HYBRYS
Renault Version2 KERAX
Renault Version2 KERAXMIL
Renault Version2 MAGNUM
Renault Version2 MIDLUM
Renault Version2 PREMIUM
Renault Version2 SHERPAL
Renault Version2 SHERPAM
Renault Version2 VAB
Renault Version2 VBCI
Renault Version2 VLRA Volvo Trucks old electric system
Volvo Trucks Vehicle Electronics '98
Volvo Trucks VERSION2
Volvo Trucks VERSION3
Volvo Trucks VERSION4
Conventional Volvo buses
Multiplexed Volvo buses
Volvo Buses Multiplexed version 2
Volvo Buses Multiplexed version 3
Volvo penta
Mack V-MAC I / II / III, ITC
Mack V-MAC IV
Mack VMAC IV +
UD Trucks Version2 UD-HD
UD Trucks Version2 UD-MD
And many more models…
Release Date: June 08 2022.
With this release version there are some fixes applied, such as the following ones:
-The display progress when programming is improved
-Vocom II Driver is properly displayed.
-And many other fixes that maks the programming works more easy to do
Versions you will receive:
-Native install Version
-Preinstalled version on vmware
Note: The price is for both versions(both are 2.8,.130 update)
This is an updated version that comes for natinve install on any windows. This scan tool can be connected through a laptop and a nexiq usb link 2 scanner most of all. we offer support in case is needed besides it omes with an install video for quick setup. 
As you may know this is the diagnostic program for almost all truck brands including volvo, mack, renault, western star and many others.
APCI HAS UPDATED TO 2021.09
System Requirements: Windows 7, 8, or 10 pro 64 bits version
Ram: 8gb at least minimum
200 gb hdd free space
WITH THE PRODUCT HISTORY FUNCTION
Devtool supports system: windows 7,8,10, 11 64bit
Techtool supports system: windows 7,8,10, 11 64bit
Multilanguage: English, Spanish, German, French, Italian, Portuguese, Dutch, Polish, Russian, Greek, Turkish, Czech, Danish, Latvian, Swedish, Lithuanian, Romanian, Finnish, Korean, Japanese, Thai, Serbian, Montenegrin, Magyar, Chinese Traditional, Chinese Simplified.
Software packing list:
1.Volvo Premium Tech Tool v2.8.130 DEVTOOL VMware 15
2. Volvo install video guide
3.! Volvo ptt 2.8.XX install GUIDE
4. APCI 2021.09
5. Fix PTT_2.8.130
6. Developer Tool
7. TECHTOOL CLEANUP TOOL
8. VISFED 0.3.2 +kg+ultilites
if you have any problem downloading or installing, please contact me through WhatsApp and will fix it.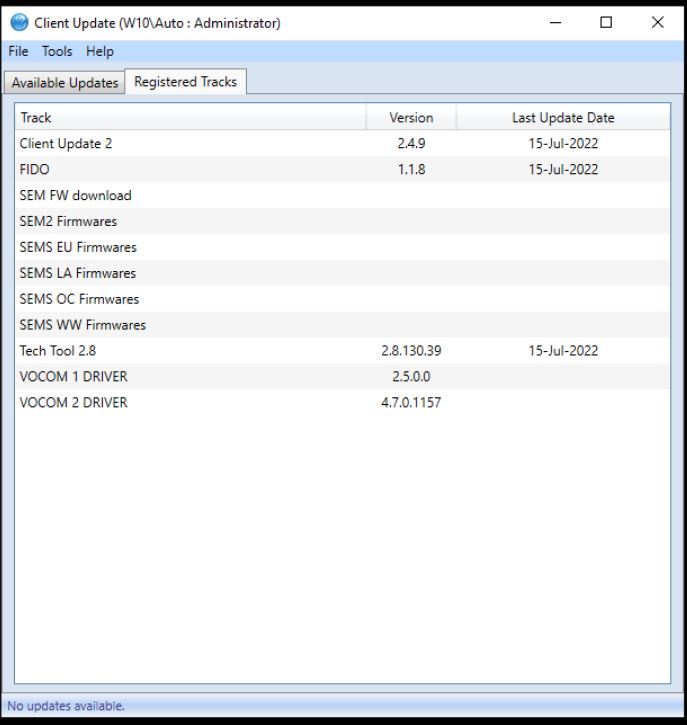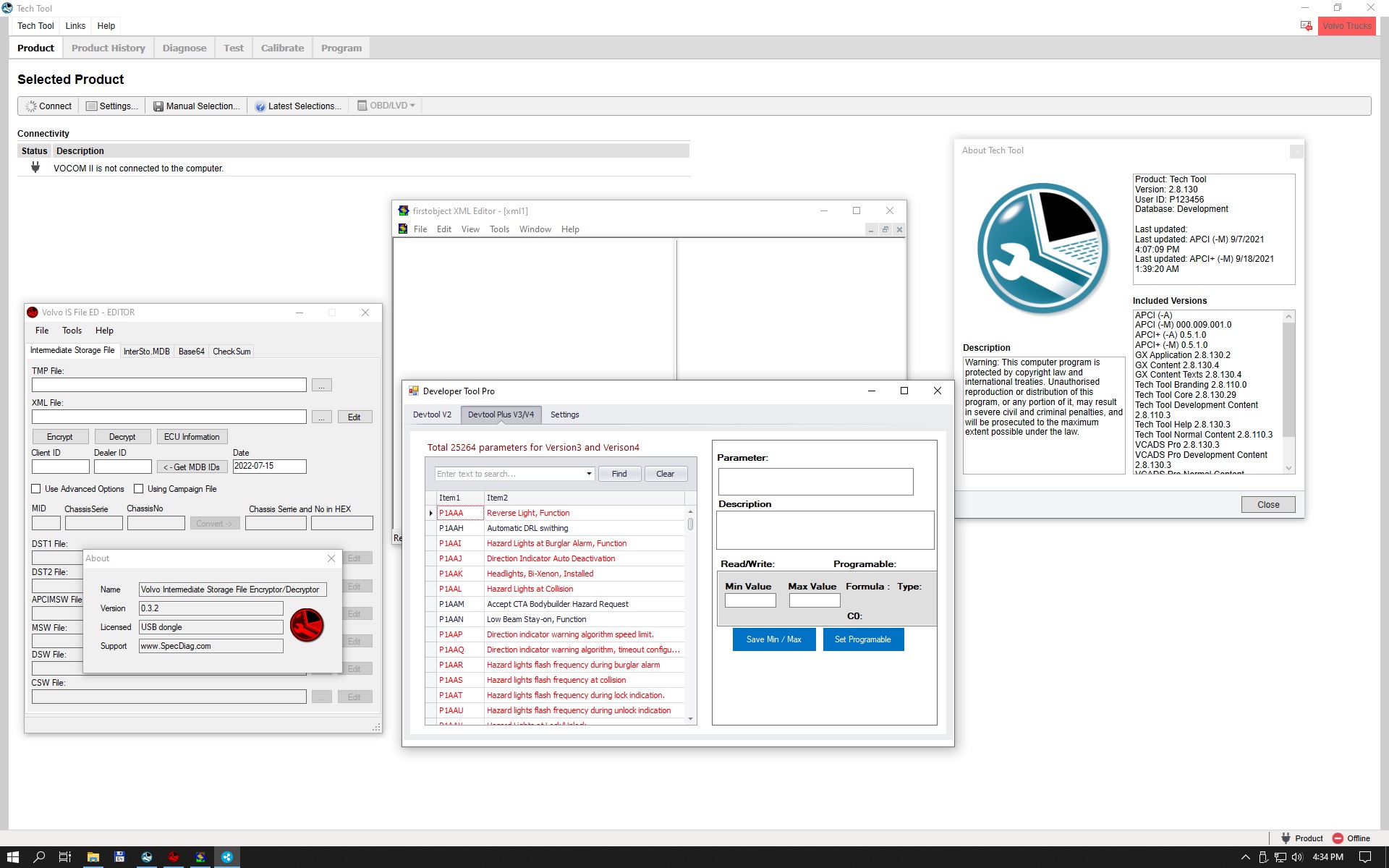 Shipping
The link will be instantly available once payment is confirmed. It will be seen in the downloads section of your obd2technology account.
Payments
WE ACCEPT THE DIFFERENT PAYMENT METHODS ADVERTISED ON THE SITE, SUCH AS PAYPAL, VISA AND MASTERCARD CARDS AND
BITCOIN
How To Place An Order, download and common questions: