Isuzu US-IDSS II 9.2019 – Isuzu Diagnostic Service System J2534 Interface Devices + Included activation tools
The IDSS (Diagnostic Service System) represents a cutting-edge solution for the diagnostic and servicing needs of Isuzu commercial vehicles. Its advanced design is aimed at optimizing the diagnostic process and ensuring the highest degree of accuracy. The program offers a comprehensive suite of guidance, including step-by-step instructions and technical recommendations, for the collection of relevant diagnostic information.
IDSS has been engineered to support a wide range of engine configurations and controller systems, providing operators with a powerful and versatile diagnostic tool. With the ability to perform procedures equivalent to those performed at a service center, and with immediate access to connection schematics, IDSS stands as the ultimate diagnostic solution for the Isuzu fleet. Regular updates and enhancements to IDSS keep pace with the evolving needs of the industry, ensuring compatibility with the latest engine configurations and controller systems.
Isuzu Diagnostic Service System (IDSS) is a comprehensive diagnostic tool that provides workshop Service Information, Electrical Troubleshooting Manuals, diagnostic Tool, Service Programming, real-time Bulletins, and some training to support all Isuzu manufactured products. The system is used with a laptop in conjunction with an industry-standard J2534 vehicle interface device. Updating the system software is performed via the Internet.
IDSS exclusive software for Isuzu vehicles. With each new release of the IDSS program, additional vehicle engine configurations and controller systems may be supported. Controller Programming allows you to update and reprogram various vehicle controllers based on part numbers and/or newly available calibration files.
IDSS is for North America and Canada
For diagnostics, you need a J2534 adapter.
NEXIQ USB 1 / USB 2 G-M MDI / MDI 2 MONGOOSE PRO/ ACTIA PASSTHRU/ XS2G
Native Version
Top reasons to buy idss II:
Need for a complete tool that has repair and diagnosis info:
– Diagnostic tool;
– Programming capabilities;
– Service/Workshop Information and complete bulletins.
Need a complete system to fit GMx and Isuzu quick solutions:
– HP parameter change;
– PTO settings at the Dealer, Fleet, and Port levels;
– Monitor engine and sensors systems  (Fuel economy, codes, operation status, etc.);
– Diesel Particulate Filter testing for 2007i emissions;
– Release timing control;
– On-demand changes of parameters.
Need for Internet updating and internet communication to dealers.
View real service information.
View electrical schematics.
View service bulletins (1984-2019).
Use scanning tools for diagnosis of trouble codes and ECM. TCM, PCM, and controller programming.
There is NO interface in the item.
You will buy ONLY Software.
File Size: 6 Gb
Release Date: 2019
Language: English
OS: Windows 7 32 bit/64 bit, Windows 8 32 bit/64 bit, Windows 10 32/64 bit
Expiration date: 10 years from todays date
This is a list of the diagnostic interface devices(scanners), that can be used with IDSS, besides genuine Isuzu IDSS adapter interface:
1. Dearborn Group DPA 5
2. IDS MX1 (Isuzu Interface Device)
3. IDS MX2 (Isuzu Interface Device)
4. CarDAQ (Drew Technologies)
5. Nexiq (Nexiq Technologies)
6. Nexiq 2 (Nexiq Technologies)
7. Noregon DLA + (JPRO Fleet Products)
8. Noregon DLA 2.0+ (JPRO Fleet Products)
9. Bosch (J2534 Interface Device)
J2534 Interface Devices
• Below is a list of the Isuzu interface devices (MX1, MX2), as well as examples of some J2534-compliant interface devices, that can be used with IDSS.
• Note: Any J2534-compliant interface device will work with IDSS. However, you will have to load the drivers for that particular interface device. Refer to the appropriate Interface Device manufacturer's website for software and driver downloads and installation instructions.
J2534 Interface Devices IDS MX1 / IDS MX2 / DPA 5 / CarDAQ / Nexiq / Nexiq 2 / Noregon DLA + / Noregon DLA 2.0+ / Bosch (J2534 Interface Device)
added drivers and instructions for connecting adapters, see the instructions J2534 Interface Device Settings. Or just install the driver you need by selecting the Drivers folder or download it from the manufacturer's website. you must restart and install all the driver components, some of them are installed at the end and only with administrator rights. After restarting, click on the help icon, at the bottom you will see Select a device.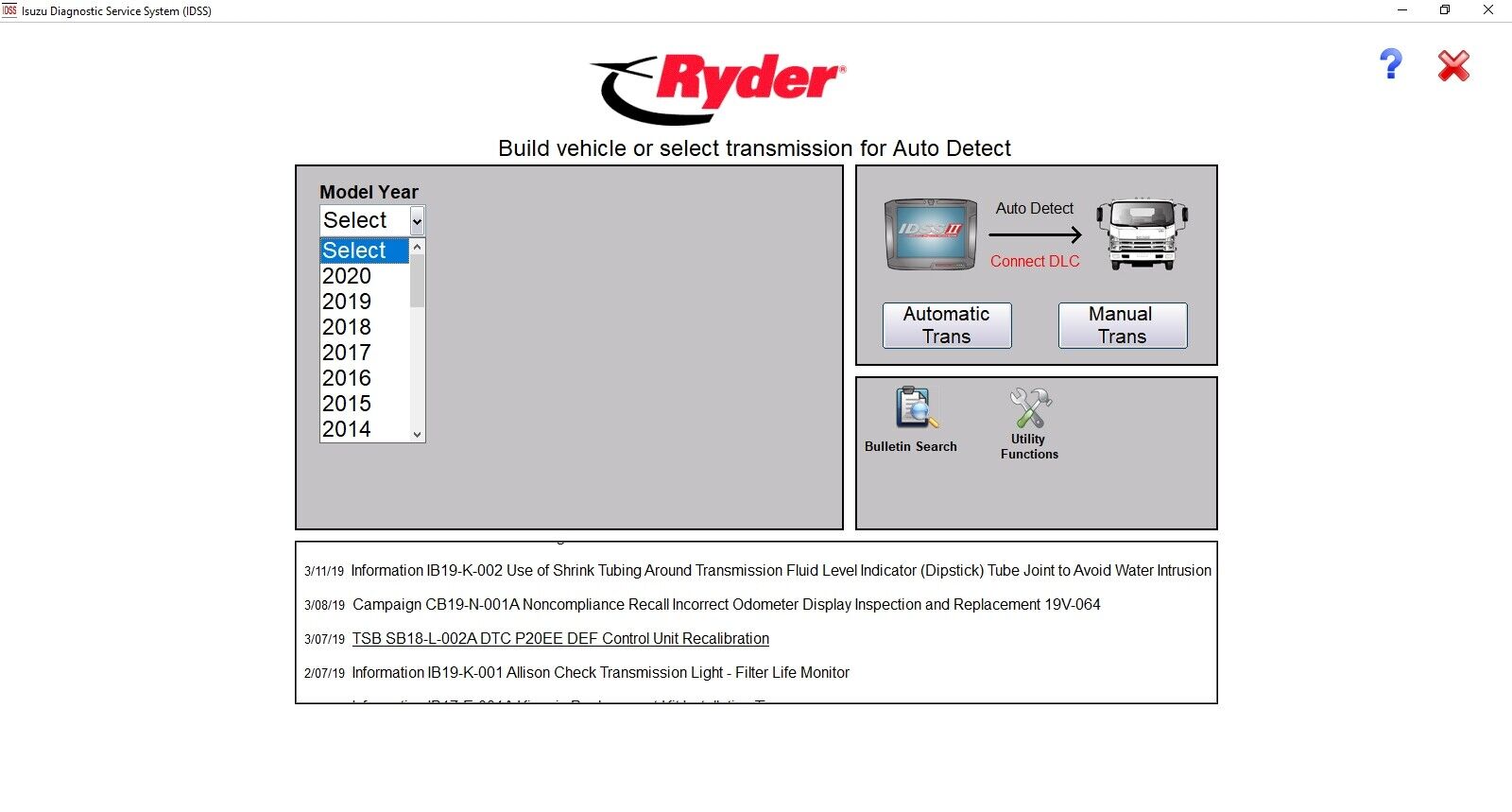 Shipping
The link will be instantly available once payment is confirmed. It will be seen in the downloads section of your obd2technology account.
Payments
WE ACCEPT THE DIFFERENT PAYMENT METHODS ADVERTISED ON THE SITE, SUCH AS PAYPAL, VISA AND MASTERCARD CARDS AND BITCOIN
How To Place An Order, download and common questions: