Hino DX2 v1.1.21.3 + Troubleshooting Ver.1.1.19.1 + Keygen
Hino Diagnostic eXplorer 2 (Hino DX2) is designed for diagnosing Hino trucks. The program comes with the database (troubleshooting data). The HinoDX2 is used for troubleshooting of the electronic control system and modification of vehicle-specific data, also Reprogramming of the ECU program. The main Diagnostics groups are: Diagnosis Customization Reprogramming.
Hino DX2 is also a diagnostic program that works by connecting the scanner tool to the vehicle's OBD-II port to read the fault codes, which can then be displayed on the screen. It is also able to read and display current sensor data, and can be used to do a variety of other tasks such as resetting the service light or erasing DTCs.
For diagnostics, you need adapter like Denso, Nexiq etc.
File Size: 550 Mb
Release Date: 2021
Language: Multi Language
OS: Windows 7 – Windows 10 & 32- 64 bit
Native install Version
There is NO interface in the item.
You will buy ONLY Software.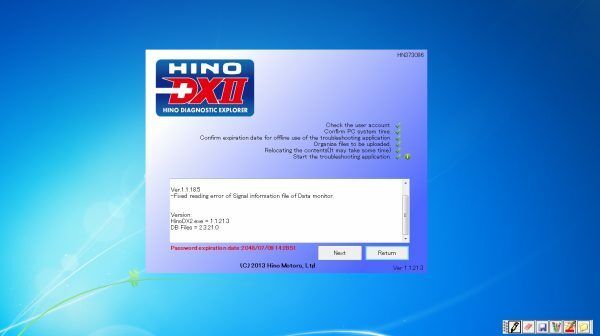 Shipping
The link will be instantly available once payment is confirmed. It will be seen in the downloads section of your obd2technology account.
Payments
WE ACCEPT THE DIFFERENT PAYMENT METHODS ADVERTISED ON THE SITE, SUCH AS PAYPAL, VISA AND MASTERCARD CARDS AND BITCOIN
How To Place An Order, download and common questions: