CUMMINS INSITE 8.7 PRO Diagnosis Software works with Cummins electronic control modules (ECMs) to diagnose and troubleshoot engine problems, store and analyze historical information about an engine, and modify an engine's operating parameters.
Cummins INSITE Professional Edition software supplies engine information quickly, enabling you to download calibrations. Retrieve current or recorded data about an engine, alter ECM settings, store data for viewing later, and analyze data to monitor and assess the operation of your engine.
This diagnostic software performs engine diagnostics and displays electronic engine information on your PC. With step-by-step diagnostics, integrated engine drawings, and schematic diagrams, working with INSITE is easy. Using this software application will reduce troubleshooting time, errors, and incorrect procedures, and quickly get your vehicle back within proper operating parameters.
8.7 PRO version also has the following capabilities:
– Diagnostics
– Edit parameters
– Fleet Calibration
– Clear Faults
– Programming & Change HP
– Remove ECM Password  by  ECM Password Removal (Zap-IT)
Other Features:
-Vehicle information
-Parameter and function settings
-Accurate fault diagnosis
-Complete wiring and location diagram on map sensors
-Troubleshooting related information
-fault information
-Fault codes and diagnosis based on symptoms
-Diagnostic test engine
-Tools to create templates for a group of vehicles
-Fleet management / program controllers
-Tracking Information Audit
-Greater ECM security
Region: All regions
Languages: English, Hungarian, Dutch, Danish, Spanish, Italian, Chinese, German, Dutch, Norwegian, Polish, Russian, Turkish, French, Czech, Swedish, Japanese
Operating System (OS) : Windows 10,8.1. 8, 7  x64 64-bit or x86 32 bit
Media version: cummins insite download
Date update & Download size: Cummins INSITE 8.7.0.86 [01/2021] 2 GB download
Interfaces required: such as nexiq usb link 2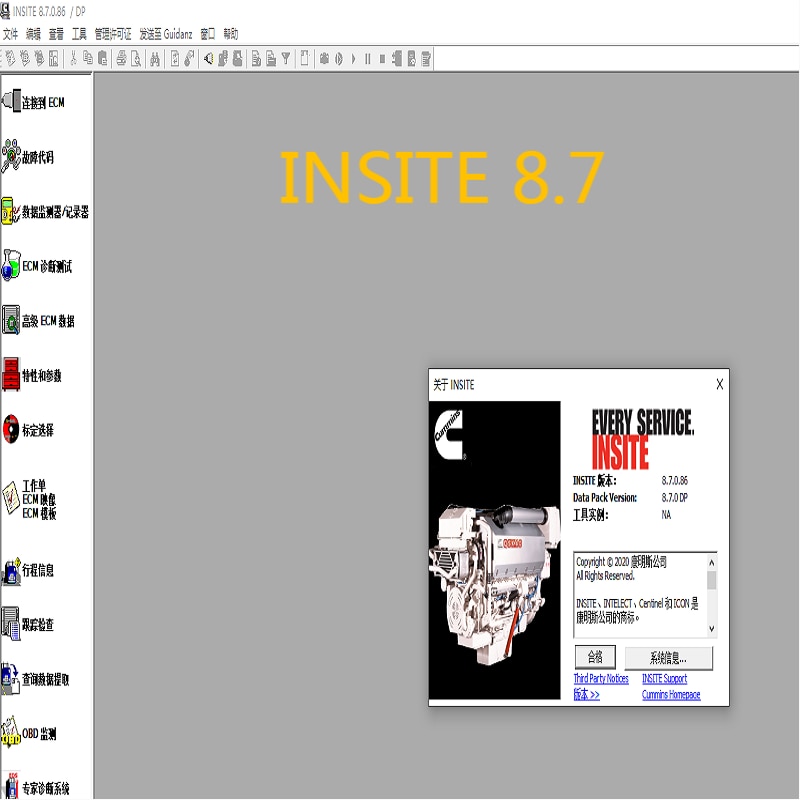 Shipping
The link will be instantly available once payment is confirmed. It will be seen in the downloads section of your obd2technology account.
Payments
WE ACCEPT THE DIFFERENT PAYMENT METHODS ADVERTISED ON THE SITE, SUCH AS PAYPAL, VISA AND MASTERCARD CARDS AND BITCOIN
How To Place An Order, download and common questions: